Golden Ocean Luxury Yacht – A Boater's Dream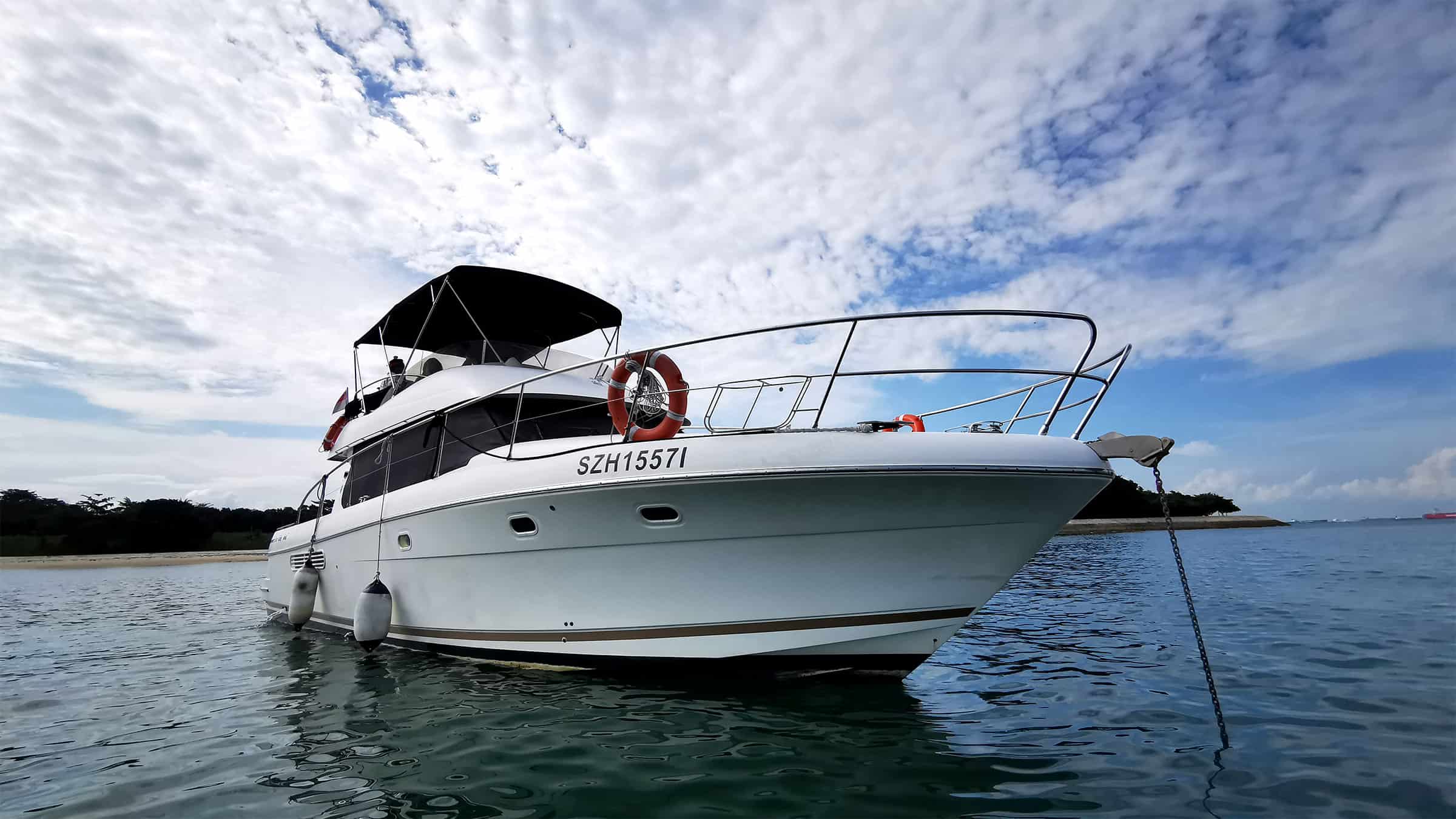 The Golden Ocean, constructed in France in 2010, is a 47 ft Jeanneau Prestige Yacht made with love and crafted with the best quality in mind.
Some Features & Technical Details
Flybridge Cruiser
Length: 47ft
Engine: 2 x CUMMINS QSC8.3 (2 x 368kW)
Onboard Facilities:
Cabin with Queen sized bed
Washroom
Shower facility
BBQ Pit
Microwave
Fully stock mini fridge (charges apply) Drinks pre-order only
Karaoke System
TV
Equipments:
Number of Guests It Can Take
Maximum capacity: 18 guests (exclude 1 captain and 1 crew)
Price starting from $920… Seas the day and let's sail together.
Book Now
Explore Golden Ocean with our 360 app
The Birth Of Golden Ocean
Owning a yacht has always been Kah Meng's father's dream, allowing him to own his own ticket to the sea. For a long time, he never really been able to fulfill his goal of being the owner of his own luxury vessel, until one fateful day in 2010, he set out to purchase the Golden Ocean from Prestige itself.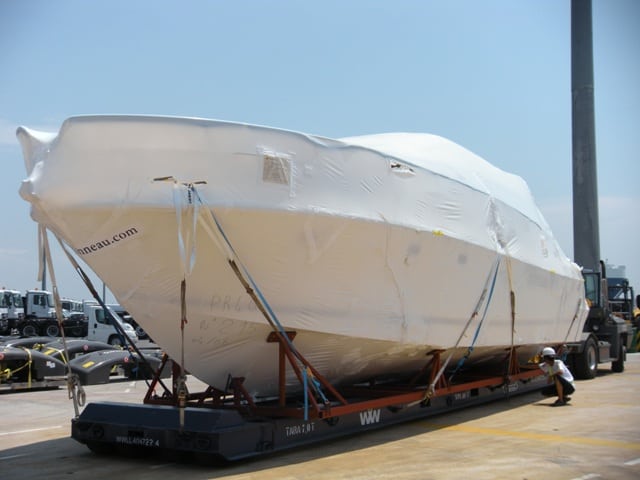 Just like that, she began her maiden voyage, sailing the high seas and roughing out the salty winds.
From that day on, the Golden Ocean made its home alongside the few yachts docked at One°15 Marina Club, early into the adolescence of the local yachting industry. But fate had other plans for her, and she was never utilized to her fullest potential.
How Did B.O.B Marine Acquire This Yacht?
In 2011, Kah Meng's father had passed on, leaving the Golden Ocean in the care of his son. However, even then, she was unable to set sail.
Due to Kah Meng's busy and hectic work schedule, the Golden Ocean was hardly used over the following few years. As a result, she cruised out to sea less than 4 times a year, and lacked the care and love that she deserved.
However, as soon as all seemed to go well, the Golden Ocean faced yet another obstacle that she had to overcome.
She began to show signs of problems, such as the engine having difficulties in starting (much like a car's engine, after a long period of disuse).
Kah Meng had always felt that the Golden Ocean deserved to be used for her purpose – to sail the seas and bring joy to friends & family alike.
In 2015, together with Jermyn, the Golden Ocean joined BOB Marine's fleet to bring happiness and memorable bonding sessions to all.
The Big Revival Under B.O.B Marine
While she was still a relatively new luxurious yacht, the years of underuse and lack of care took a toll on the Golden Ocean's electronics system. B.O.B Marine took the necessary steps to restoring this beauty and bringing her back to the days of her former glory.
Firstly, the air-conditioning had to be fixed.
Then, certain parts had to be replaced. The batteries, battery charger, bilge pump, macerator pump and lights were just some of the few items that had to be changed.
After the initial repairs and a quick servicing of her generator and engines, the Golden Ocean was once again ready to set sail out to sea. However, there was just one last step before she could brave the tides once more.
At first, the Golden Ocean was licensed to carry up to 12 passengers, but we knew she could carry more. In order to give more people the chance to make lasting memories with her, we arranged for the Golden Ocean to undergo a stability test.
Of course, she passed with flying colours, and she could now carry up to 20 passengers at once.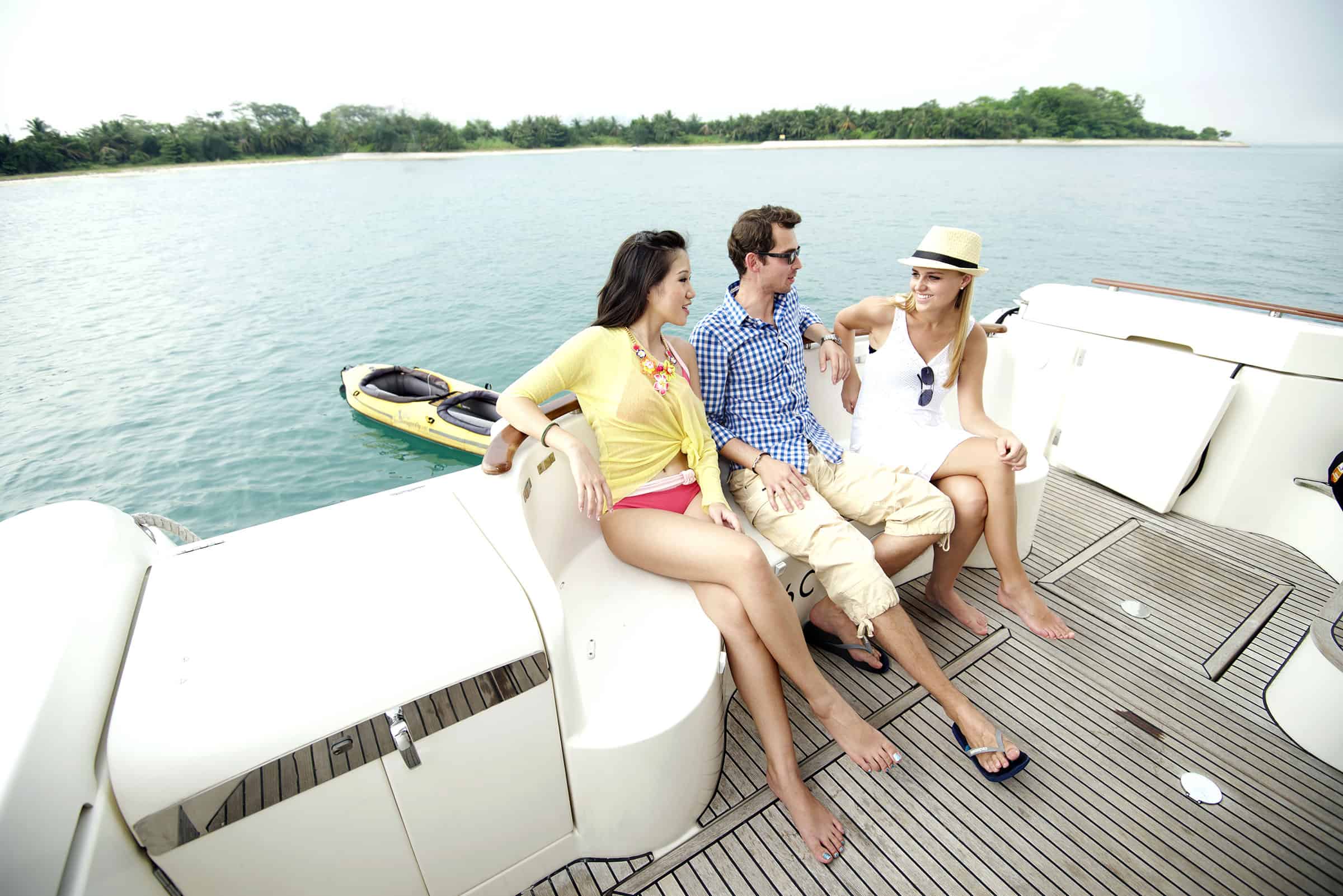 What is This Yacht Usually Used For?
Small Family Gatherings
Wedding Proposals
Executive Meetings
Romantic Celebrations
The Golden Ocean's Unique Points
The Golden Ocean has landed at ports all around Southeast Asia, such as Tioman, Nongsa, Bintan and Tanjong Pinang. Due to her fast cruising speed, she is suitable for long-distance trips overseas.
Conclusion
The Golden Ocean is a labour of love. She was acquired as a result of dreams and aspirations floating on the sea waves.
She was later passed on to Kah Meng. With lots of tender love and care in repairs and countless charters, the Golden Ocean is a luxury yacht that has a beautiful story behind it, one filled with love and devotion.
Book a charter with us today, and select the Golden Ocean to sail the seas with her, in the experience of a lifetime you will surely never forget.