Sardinia Yacht – A Breath of New Life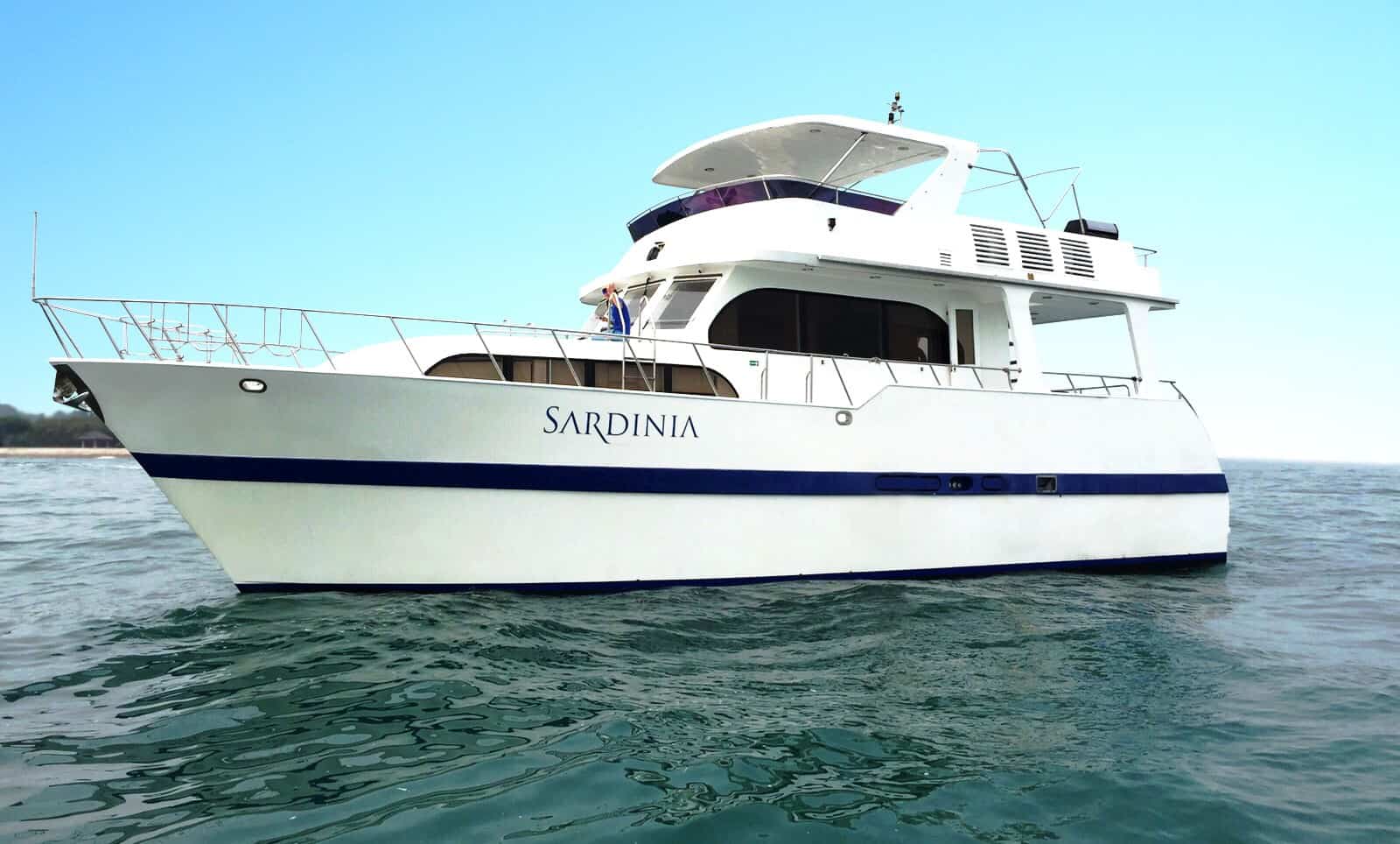 SARDINIA, named after the second largest island in the Mediterranean Sea, promises the experience of a cruise & island getaway that people often imagine with the Mediterranean Sea.
Custom-built in Aberdeen, Hong Kong, Sardinia was first created as a part of a fleet of 4 yachts initially procured by One°15 Marina Club, back in 2007 where the marina was first launched.
Within her fleet, the Sardinia was a special addition, for she had been built with 2 engines instead of 1.
This meant that she was created with the ability to cruise the seas, while her "sisters" built as houseboats–with only 1 engine for short trips or manoeuvring within the marina itself.
Some Features & Technical Details
Flybridge Cruiser
Length: 57ft
Engine: 2 x CUMMINS Twin Marine Diesel (2 x 350HP)
Onboard Facilities:
2 Cabins with Beds
Washroom
Shower facility
BBQ Pit
Microwave
Full-sized Fridge
TV
Bluetooth Speaker
Equipments:
Number of Guests It Can Take
Maximum capacity: 36 guests (exclude 1 captain and 2 crews)
Explore SARDINIA with our 360 app
How Did B.O.B Marine Acquire This Luxury Yacht?
For years, the Sardinia had served One°15 Marina incredibly dutifully as a charter yacht, sailing out to sea as far as those that boarded her vessel wanted to go.
However, fate often doesn't go the way you'd expect, and the Sardinia was taken off the yacht charter market after a few years and left alone in the marina–unutilised and lacking the love she deserved.
By 2015, the Sardinia was in such a poor condition, unable to even start her engine or move on her own power.
Because of this, One°15 Marina had made the decision to sell the Sardinia off at rock-bottom prices, putting her up for a 'fire-sale' for anyone to purchase.
It was then that the Sardinia caught the eye of B.O.B Marine.
Having maintained our own yachts for a year, we had full faith in our technical ability to fix up and repair them where needed.
However, fixing a yacht with unknown problems was an entirely new territory that we had never ventured into before, and it posed a huge risk for us to even try.
The Big Revival Under B.O.B Marine
Luckily for us, our saviour came in the form of Jermyn's old friend, XK, a marine engine mechanic. With XK's support and partnership, no amount of obstacles seemed too daunting for us, and with that, B.O.B Marine decided to buy the Sardinia, restore her to her former glory and give her the love that she deserved.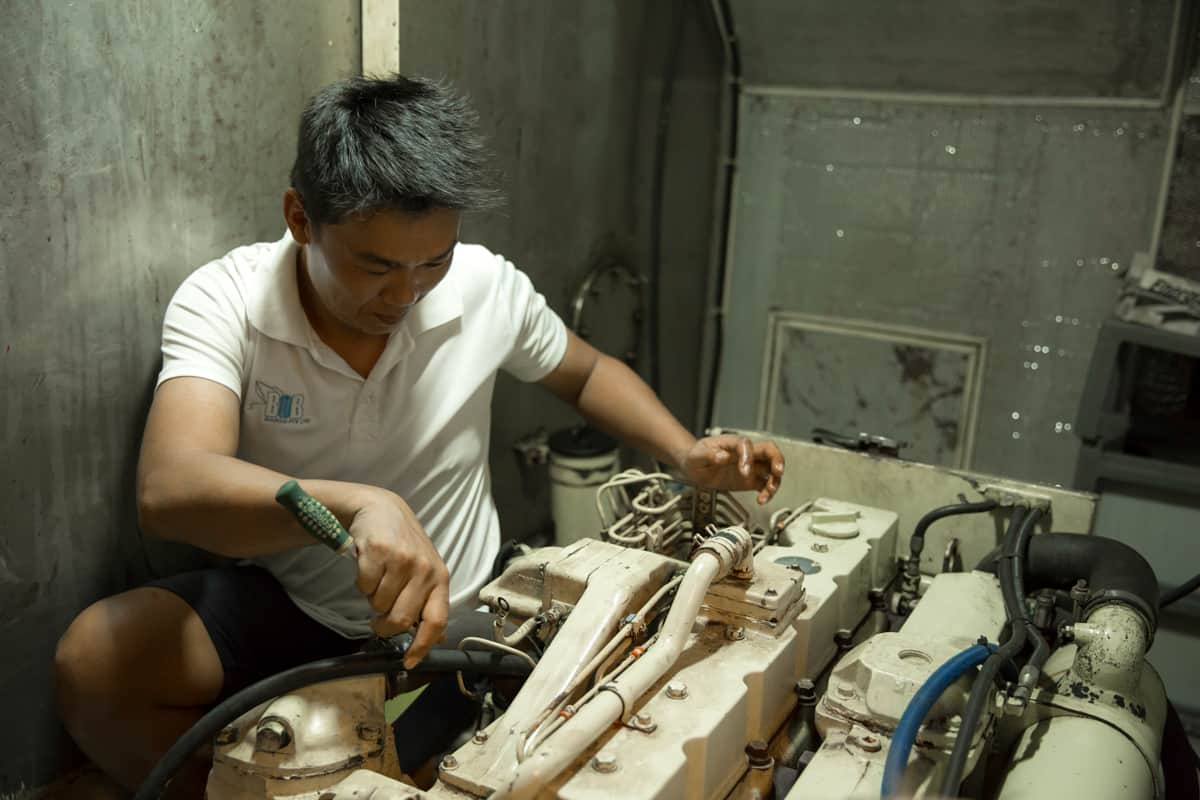 After buying her and inspecting her a little closer, we realised that there was a humongous challenge ahead of us.
The state of the Sardinia was bad, but further examination had revealed to us a much longer list of defects than we were first aware of.
Both of her engines were unable to start, her generator was broken, her electrical cabling and switchboard were rusted from the salty seawater she had been exposed to. Her gearbox was jammed, at least 80% of the lights were spoilt and her throttle cable was loose.
And that wasn't the end of it!
Everything from her hull to the internal mechanisms needed to be overhauled, and the list just kept going on, and on, and on.
While the odds were entirely stacked against us, we forged on and worked on the repairs one at a time. We focused on the engines first, and by a sheer stroke of luck, we managed to get them up and running after 2 weeks of blood, sweat and tears.
With the biggest obstacle finally out of mind, our confidence was renewed, and we went on to fully restoring the Sardinia in 4-6 months.
Our biggest discovery from the our restoration project was that, while yachts can be pretty pricey if you're not sure of what you're doing, they can be very affordable if you have the right skills.
For example, while we were repairing the Sardinia's gearbox, we requested a quotation that amounted to a hefty $20,000! This greatly shocked us, of course, and because paying such a steep price was not what we were willing to do, we took it upon us to repair it ourselves.
By hunting down the replacement parts and tools, we fixed it by only spending $3,000+, saving us at least $17,000+ by fixing it ourselves!
Truly, boating is affordable if you understand the challenges that come with it.
What is This Yacht Usually Used For?
Corporate Gatherings
Wedding Solemnization
Celebration Party with Friends
Teambuilding
The Sardinia's Unique Points
At least 80% of electronics on the Sardinia was replaced. The throttle, which was once a chain system, has now been replaced with an electronic system.
Conclusion
The Sardinia is an resilience yacht that continues to sail the seas to this very day, bringing joy to people's lives as they cruise out to sea.
Her story holds the love and care of the people that worked tirelessly to restore her to the initial beauty.
Will you be one of these people to appreciate her beauty?
Book a charter with us today, and select the Sardinia to conquer the seas with her, in the experience of a lifetime you will surely never forget.