Things You May Not Know About Renting a Yacht in Singapore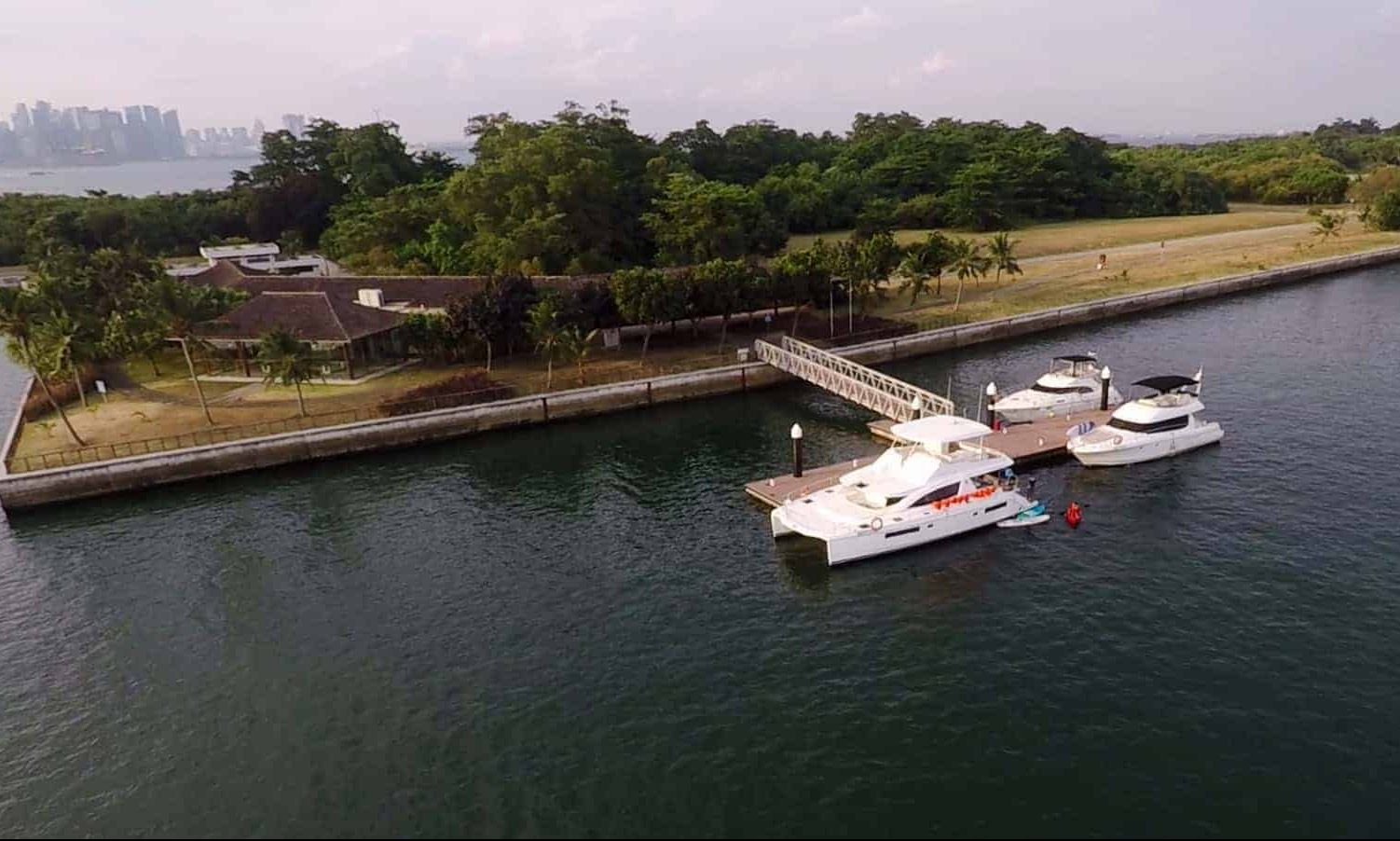 Looking to add a little luxury to your next vacation? Why not consider hiring a yacht? Yacht charters in Singapore are becoming increasingly popular as more and more people look for ways to enjoy extended holidays.
Yacht charters are a popular option for travellers who want to enjoy the freedom and flexibility of being on the open water. It offers a luxurious and fun-filled way to enjoy extended holidays with family and friends. And there's no better place to rent a yacht than in Singapore.
Singapore is one of the most popular yacht charter destinations in the world, thanks to its stunning scenery, incredible food, and world-class marinas. There are plenty of options when it comes to yacht rental in Singapore, so you can find the perfect vessel to suit your needs and budget. And if you're looking to stay awhile, longer holidays can be easily arranged.
So what are you waiting for? If you're looking for an unforgettable vacation experience, renting a yacht in Singapore is definitely something to consider. But before you hop on that yacht, read this article to find out some of the things you might not know about renting a yacht!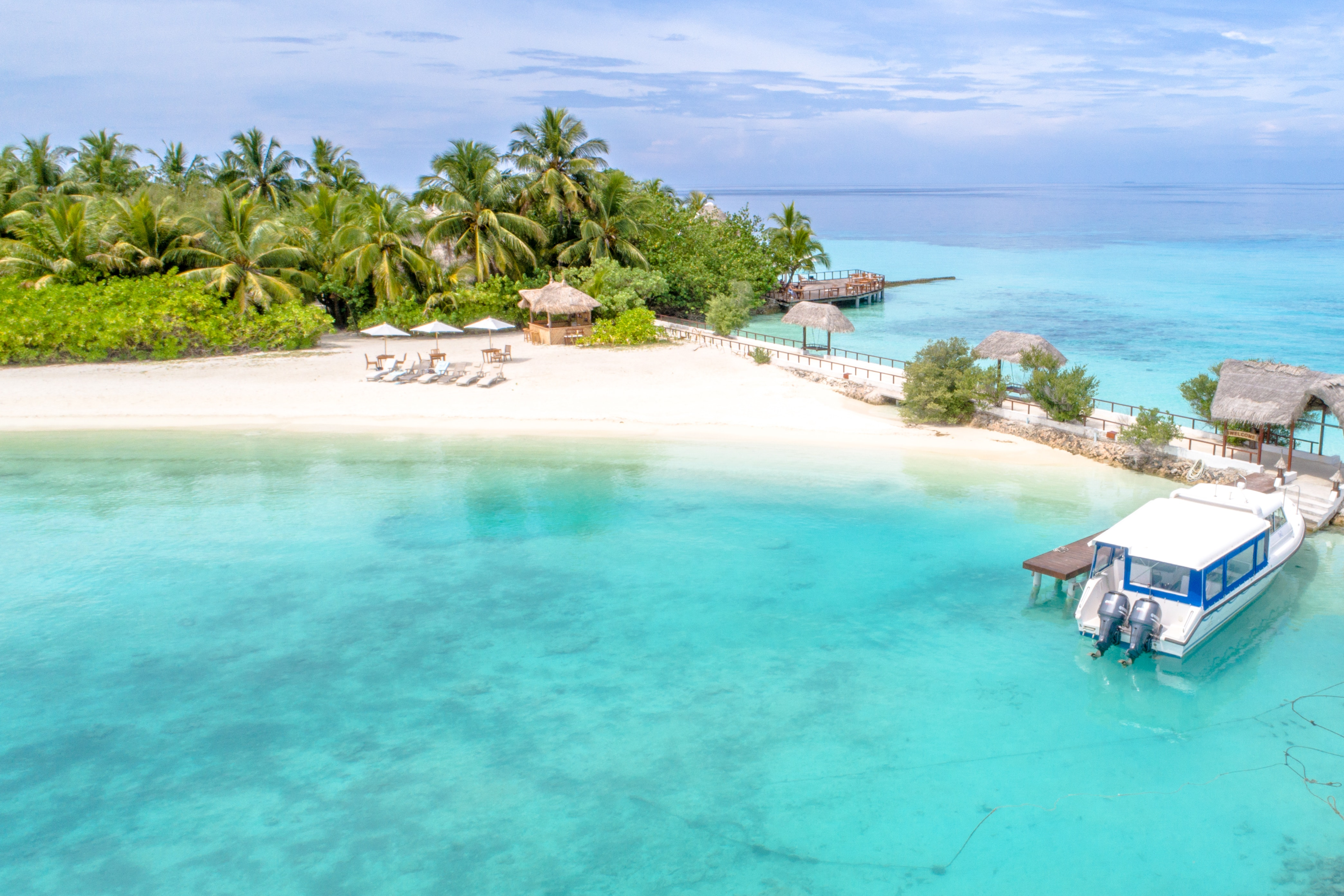 Boating trips with B.O.B Marine
Where can I go?
When you rent a yacht in Singapore, you have the opportunity to explore some of the most beautiful islands in Singapore.
Whether you're looking for a weekend getaway or a longer trip, there are plenty of options to choose from, whether you choose to stay in Singapore or venture outside of Singapore.
St. John's Island

St. John Island is a small island off the coast of Singapore that is home to a variety of activities and attractions. Visitors can enjoy fishing, exploring the island's trails, biking around the island, or camping under the stars.

The island is also home to an education centre, where visitors can learn about the marine biodiversity in Singapore's water. Whether you're looking for an active adventure or a relaxing day in nature, St. John Island has something for everyone.

Lazarus Island or Pulau Hantu

Lazarus Island and Pulau Hantu are two of the best-kept secrets in Singapore, and they offer a wide range of activities for visitors to enjoy. From island walking and camping to water sports and swimming, there's something for everyone on these idyllic islands.

Lazarus island is one of the most beautiful and popular islands in Singapore. A walk along the island is a must, taking in stunning views of the turquoise waters and getting a chance to see some interesting marine life. The island is also great for relaxing with some BBQ events or having a chill picnic. What's more, Lazarus Island is also home to one of Singapore's best beaches, so you can truly relax and soak up the island vibes.

Pulau Hantu is another great island for exploring, with plenty of water activities to keep you busy, from swimming to snorkelling to kayaking.

Relaxing itineraries

If you're simply looking to relax, you can enjoy the tranquillity of one of Singapore's many uninhabited islands.

There's nothing quite like a lazy day spent on a secluded island. Enjoying the quiet and peace that comes with being outside of the busy city.

With a private yacht, you can easily access some of Singapore's islands where you can enjoy a picnic lunch, go for a swim or simply relax in the sun. With stunning views and plenty of opportunities to enjoy nature, spending a day on one of these islands is the perfect way to relax and recharge.
Can I go overseas? Do I have to bring my passport?
A passport is not required when you're venturing within Singapore waters. You will need to bring your passport if you are planning to venture into Malaysian and Indonesian waters.
What should I bring during my trip?
Just bring yourself and your enthusiasm for a good time!
We do however recommend that you bring these items with you for extra comfort:
Extra towel and clothes for you to change
Sunblock for protection
If you don't intend to rent a BBQ pit for your yacht party, you can also bring your own food
What can I do during Yacht rentals?
A private yacht can be a great way to enjoy some quality time with friends or family. When you hire a private yacht, you can build your own itinerary and go at your own pace. You don't have to worry about other people getting in the way of your fun. Plus, you can enjoy the privacy of your own yacht.
This is a great way to relax and escape the hustle and bustle of everyday life. Whether you want to go for a leisurely sail or cruise around the islands, a private yacht can be a great way to spend some time with those you love.
Here are some recommendations from us for your itineraries:

Corporate retreat

Nothing beats corporate team-building activities on a yacht. You get to bond when the yacht is cruising, and we can sail to secluded islands for your exotic island treasure hunt. Leave the details to us, and you focus on fostering relationships with your team.

Perfect for: team building, relaxing, celebrating work achievements

Family gathering

Wanting to organise a special family bonding experience for the elderly and young? Bring your entire family on our yacht to satisfy everyone's expectations. The young can explore the waters & islands; while the elderly can sit back, relax, or even bring the fishing rods and go fishing.

Perfect for: Family gatherings, family reunions, birthday celebrations, relaxing fishing trips

Are pregnant ladies, the elderly and kids allowed on the trip?

Everyone is allowed on board! We do, however, recommend that you be in good health to enjoy the trip to the fullest. Please take more caution when you are pregnant as it may result in exacerbated seasickness and nausea.

As a general rule of thumb, pregnant ladies are only recommended for boating trips after the first trimester and before the last 8 weeks of pregnancy.

Yacht party or dockside party

Private yacht party rental can be made affordable. Gather your friends, brothers, and sisters; to create a fun lively bonding experience, while we make sure you enjoy your 'YOLO' memories.

Perfect for: Birthday events, adventurous events (banana boats, stand-up paddleboards, kayaking), photoshoot sessions

Want to top off your yacht party for the night with fireworks, DJ, and LIVE music? We got you covered as we worked with quality partners to entertain you throughout.

Weddings

Nothing beats getting married on a luxury private yacht! The beautiful weather, blue sky, white clouds, the sea; you looking into your partner's eye, and saying the magical words, "I Do!". It's an extraordinary and lasting experience.

Perfect for: Weddings, sunset cruises, pre-wedding photoshoots
Wondering how to plan a wedding on a cruise? Fret not… we worked with exclusive partners to bring you the best lasting memories for your flower decorations, from photography to even drone videography.
Does the yacht charter come with the crew?
When you hire a private yacht, you can relax and enjoy the ride knowing that a captain and crew are there to take care of everything. The captain is responsible for the safety of both the guests and the yacht, and they will make sure that you sail safely and smoothly.
The crew is there to take care of all the details, from cooking the BBQ to operating the boat. They will also be able to help you plan your prefered itinerary and make sure that you make the most of your time on board.
Will there be food during the trip?
Enjoy the intimate moments, have fun and we will take care of all the rest! This includes feeding your tummy with delicious food after a day of adventure in the sea.
You have the option to choose from a wide variety of BBQ sets to special gourmet dining.

Is there mobile coverage while I'm on the trip?
You can stay connected with friends and family back home without worry. Whether you're updating your Instagram account with photos of your stunning surroundings or streaming your favourite tunes as you sail across the sea, you'll be able to do it all without fear of losing service.
Which yacht charters should I choose?
When it comes to booking a private yacht charter, there are many factors to consider. With so many options on the market, it can be difficult to know where to start.
However, at B.o.B Marine, we are a Band of Brothers (B.O.B) who love to share our remarkable yacht experience with friends, and families.
2 yacht owners, 2 strangers, 2 diverse backgrounds; now becoming partners, and family. B.O.B Marine team is like a family. We focus on people first, and business later. Let's sail together, bond together!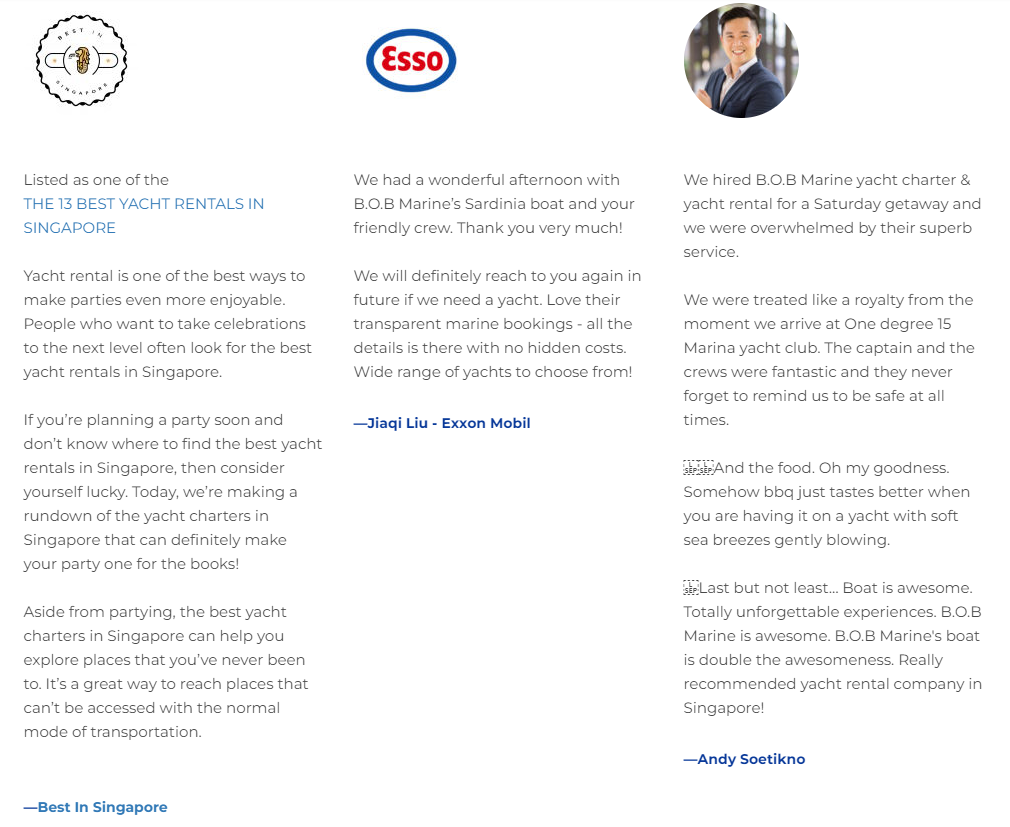 What yachts are available?
Sardinia Yacht – A Breath of New Life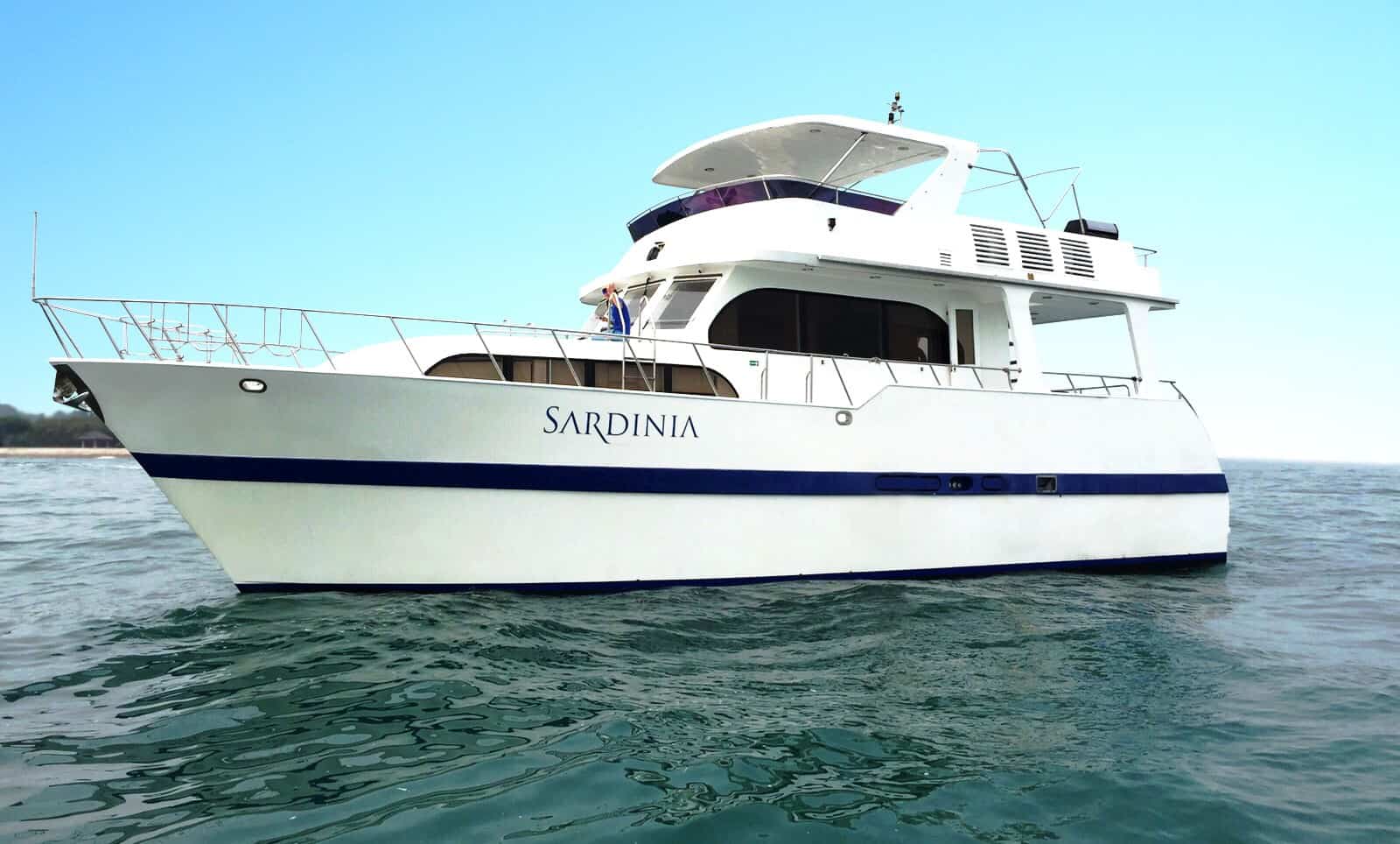 SARDINIA, named after the second largest island in the Mediterranean Sea, promises the experience of a cruise & island getaway that people often imagine with the Mediterranean Sea.
Custom-built in Aberdeen, Hong Kong, Sardinia was first created as a part of a fleet of 4 yachts initially procured by One°15 Marina Club, back in 2007 when the marina was first launched.
Within her fleet, the Sardinia was a special edition, for she had been built with 2 engines instead of 1.
This meant that she was created with the ability to cruise the seas, while her "sisters" were built as houseboats–with only 1 engine for short trips or manoeuvring within the marina itself.
Onboard Facilities:
2 Cabins with Beds
Washroom
Shower facility
BBQ Pit
Microwave
Full-sized Fridge
TV
Bluetooth Speaker
Equipment:
Number of Guests It Can Take:
Maximum capacity: 37 guests (exclude 1 captain and 2 crews)
Perfect for:
Corporate Gatherings
Wedding Solemnization
Celebration Party with Friends
Teambuilding
The Sardinia's Unique Points
At least 80% of electronics in Sardinia were replaced. The throttle, which was once a chain system, has now been replaced with an electronic system.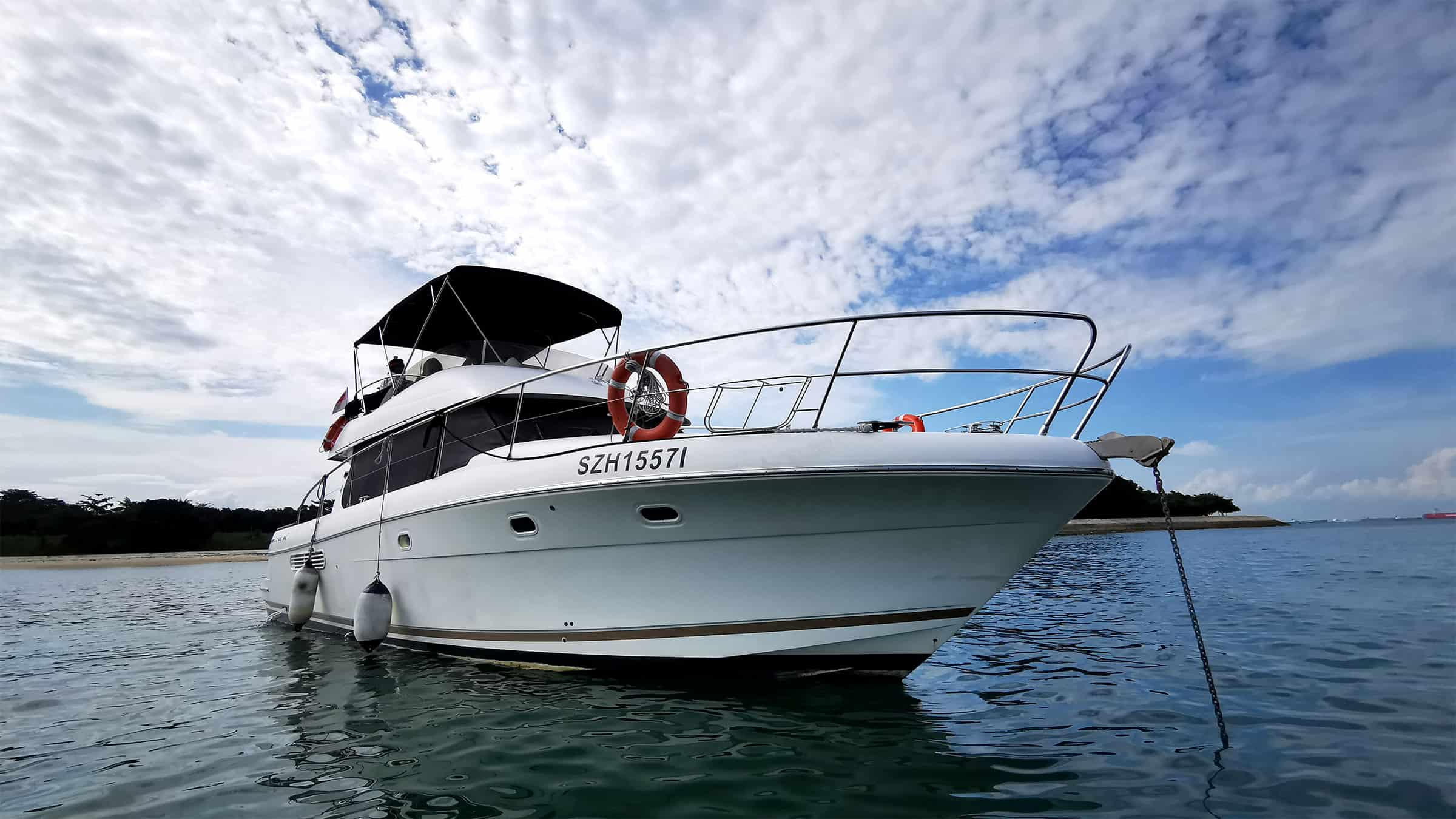 Golden Ocean Luxury Yacht – A Boater's Dream
The Golden Ocean, constructed in France in 2010, is a 47 ft Jeanneau Prestige Yacht made with love and crafted with the best quality in mind.
Onboard Facilities:
Cabin with Queen sized bed
Washroom
Shower facility
BBQ Pit
Microwave
Mini Fridge
TV
Bluetooth Speaker
Equipment:
Number of Guests It Can Take:
Maximum capacity: 18 guests (exclude 1 captain and 1 crew)
Perfect for:
Small Family Gatherings
Wedding Proposals
Executive Meetings
Romantic Celebrations
The Golden Ocean's Unique Points
The Golden Ocean has landed at ports all around Southeast Asia, such as Tioman, Nongsa, Bintan and Tanjong Pinang. Due to her fast cruising speed, she is suitable for long-distance trips overseas.
How many hours can I rent a yacht for?
The duration you can rent a yacht for is unique to each yacht, and dependent on availability.
You can plan for a short jaunt to a nearby island, or even for a staycation. If you wish to charter a yacht overnight, feel free to reach out to us.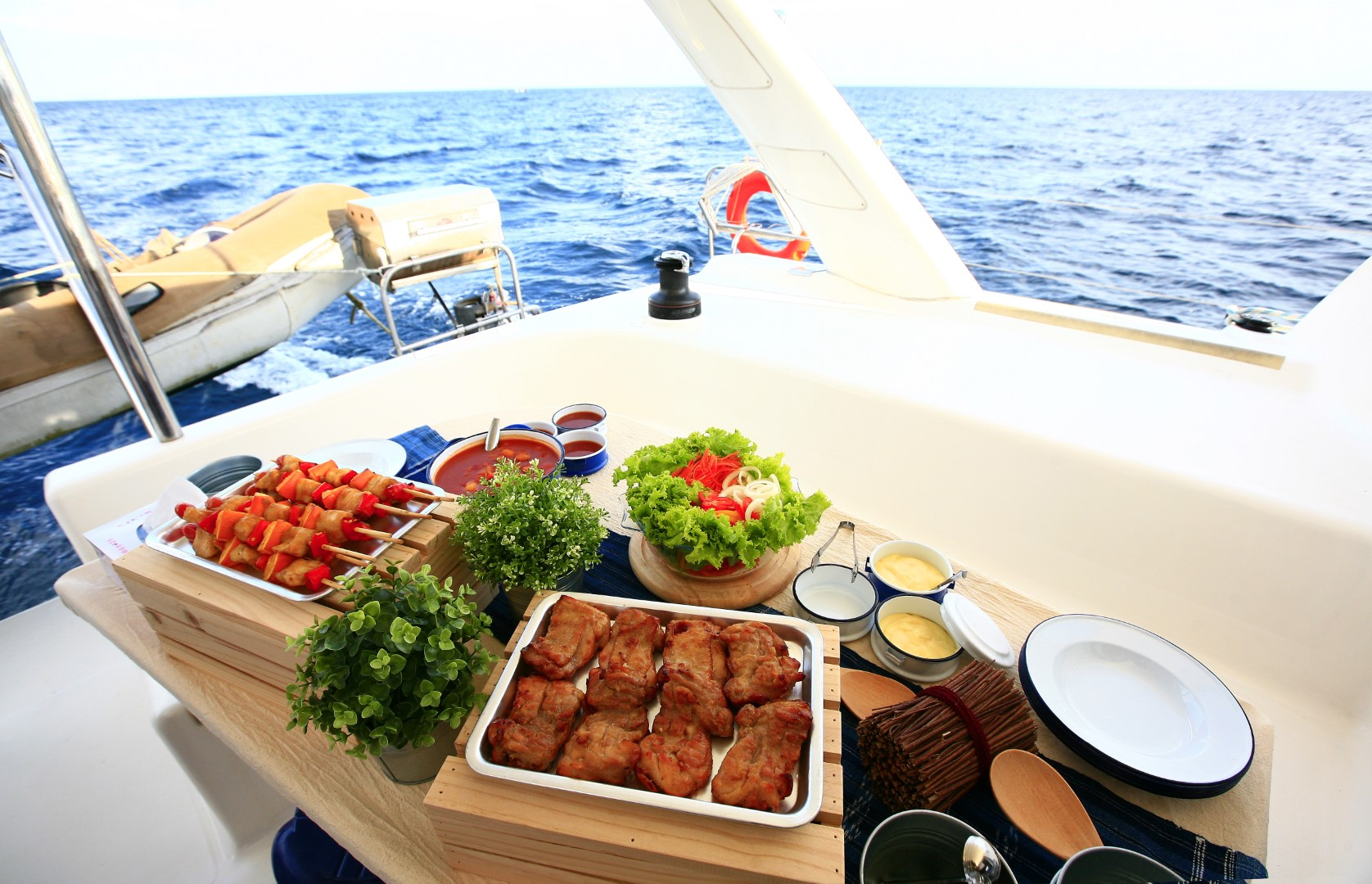 Why should I rent a yacht instead of purchasing it myself?
While the thought of owning your own yacht may be appealing, there are several reasons why renting a boat from B.O.B Marine yacht rental may be a better option.
For one, buying a yacht is a significant investment, and it can be quite expensive to maintain
There are also costs associated with docking and storage, as well as fuel and crew expenses
Additionally, you may only use your yacht for a few weeks out of the year, making it a costly investment that doesn't offer much return

By renting a private yacht instead, you can save money while still enjoying all the benefits of yacht ownership.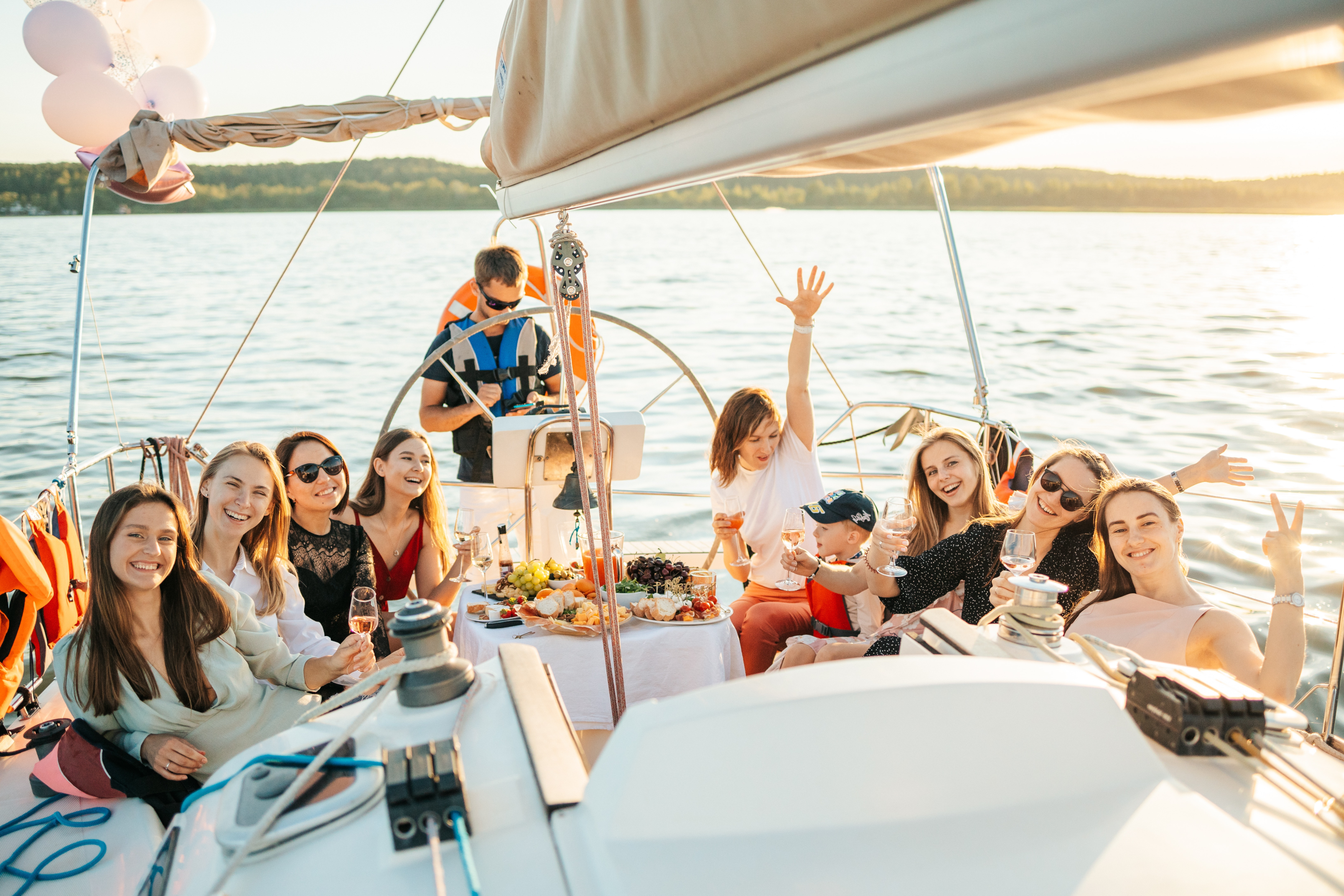 Renting a yacht takes off the pressure of dealing with the logistics and all other technical things that take up your time and money.
Experience a stress-free trip by renting a yacht and enjoy exclusive benefits, such as:
Privacy- When you charter a yacht, you are essentially renting your own private island. This is the perfect opportunity to get away from the hustle and bustle of daily life and truly relax. You can choose to do as much or as little as you like, and you don't have to stick to a strict schedule or itinerary.
Build your own itinerary- One of the best things about chartering a yacht is that you can build your own itinerary. Whether you want to spend your days lounging on the deck or exploring new ports, you can tailor your trip to suit your needs. You can also take advantage of the expert knowledge of your crew, who can recommend the best places to go and the best things to see.
Go at your own pace- Another great thing about chartering a yacht is that you can go at your own pace. There's no need to rush from one activity to another, and you can easily change plans if you want to spend more time in one place or try something different. This is the perfect way to travel if you want to avoid crowded tourist traps and really experience a destination.
Good friends or family- Chartering a yacht is also a great way to spend time with good friends or family. You can bond over shared experiences and create memories that will last a lifetime. What's more, you don't have to worry about finding a place to stay or dealing with logistics – everything will be taken care of for you. All you need to do is sit back, relax, and enjoy yourself!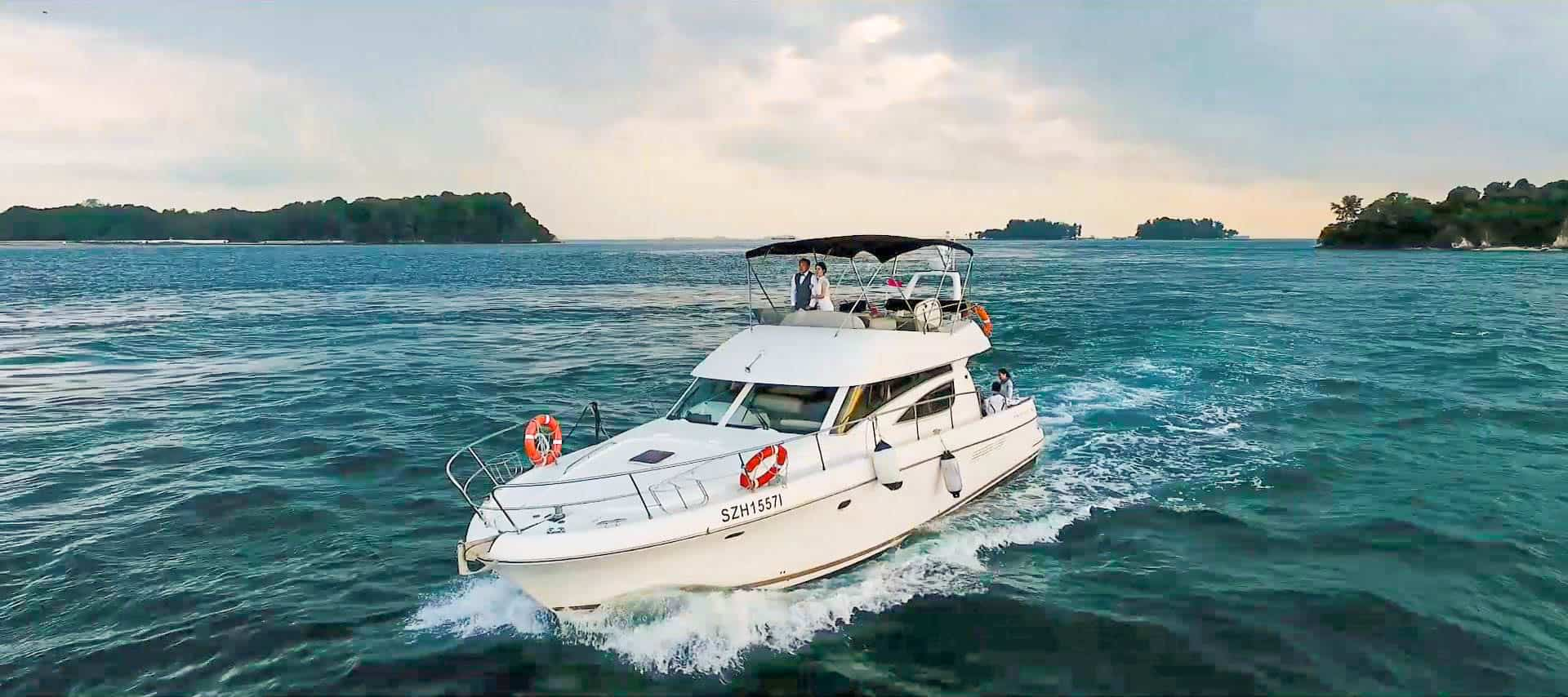 When should I go on a cruise?
Singapore benefits from the warm climate all year round. However, the country is still affected by violent winds around April and November. Though you may plan your trip anytime, we recommend that you reach out to our team if you have any hesitations to discuss more of your itineraries and we'd be happy to recommend the right time for your plans.
How far can the yacht travel?
Our Yachts are adjusted to fit your itinerary. You can easily book your trip depending on how many hours you'd like to spend on the yacht by simply registering here.