7 outlandish parties held on a Yacht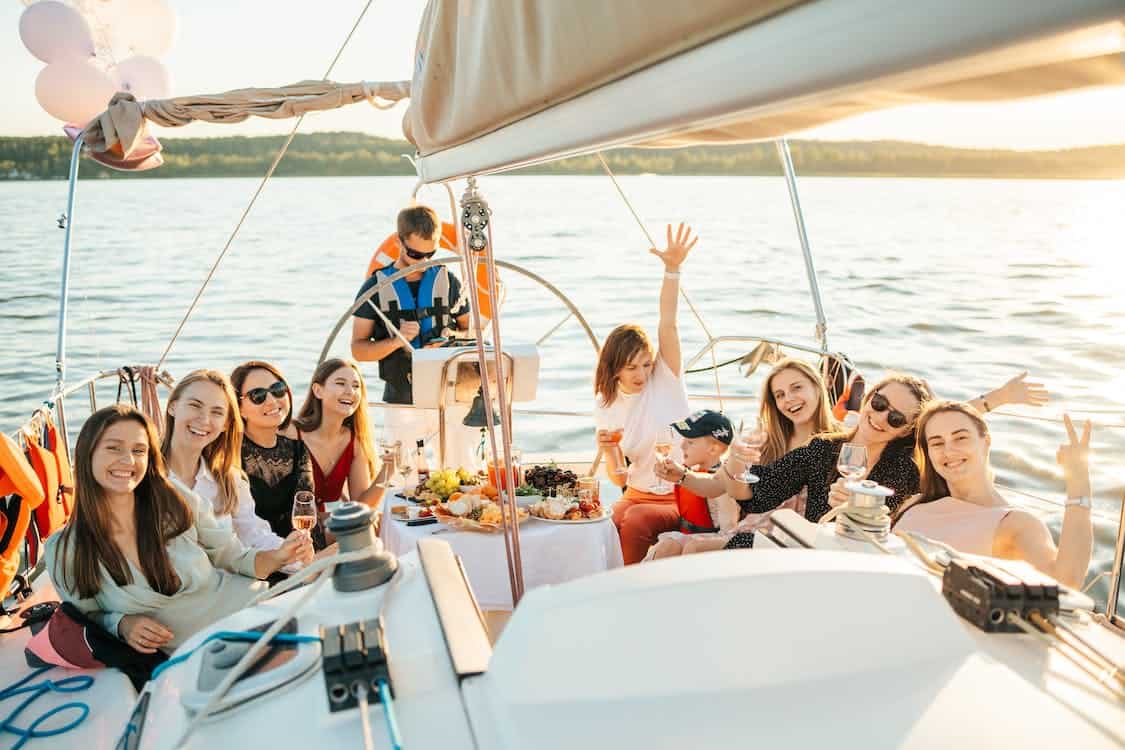 You can now throw an amazing party on luxury yachts for almost everyone.
Charter guests for a few hours to a few days, the sky is the limit on the parties you can have on yachts.
Here are some ideas for parties to have on a yacht:
1) Adventure Day
You can organize a fun day trip bathing under the sun with parasailing, wakeboarding, kitesurfing and even snorkelling with your adventurous friends.
There is an assortment of water toys you can also include for your adventure party and they include items such as:
a sea bob
jet ski
water slides
body boards
anti-jellyfish pools
stand up paddles
floating lounges
water trampolines
2) A relaxing getaway
A superyacht can be turned into a spa or just a nice little brunch session with your special someone.
The sky is the limit for a relaxing getaway as you can rest whilst you sunbathe on the deck, swim in the sea, or have a drink by the pool.
If you want something that screams luxury then you can hire a crew member that specializes in the hospitality industry to make your stay on the yacht a lot more memorable.
3) Island hopping
With so many islands to explore around Singapore, you can hire a yacht with a captain to sail you and your guests around for some sightseeing.
You may even catch a dolphin swimming in the ocean or even collect unique shells on the beaches of the islands you have visited.
If you are looking for a fun weekend with your family, you can consider chartering a superyacht that comes with all the amenities you and your family need for a comfortable stay.
4) Turn it into a club
If you are looking for a fun way to throw parties, you can easily charter yachts and hire an event planner to create an interior design to turn the boat into a club.
You never have to worry about noise complaints in the middle of the ocean and once the parties, which we are sure you will have plenty of, are over, you can just head back to the marina to let your guests off.
5) Team Building Events
Yachts are great for team-building events with employees.
Looking to have a chill day relaxing and eating on the boat or do you want to organize games for everyone to play?
Whatever the occasion is, you can decide as there are so many different types of yachts available to cater to your need.
6) Theme Parties
You can pick a theme that suits your personality and go all out with decorations, games and presents.
Nautical and pirate themes are popular but you can also host a horror murder mystery party with the crews involved in the game.
If you don't have an idea or just can't decide then the themes don't have to be specific.
All that matter is everyone had fun on the boat.
7) Formal Parties
Most yachts cater to guests that are looking to have an event to remember.
This can include a wedding, a special occasion, a momentous birthday, or even a product launch with VVIPs in attendance.
So if this is up your alley, you can easily charter guests on yachts for a truly unique experience.
Important things to have for events on yachts
Before you set sail, you want to make sure that you have all of your party essentials onboard.
Some of the most important items to have on your boat include:
1) Food
Whatever your plans are, everyone on board will become hungry eventually.
So it is important to make sure you have enough finger foods, snacks, and meals for everyone.
You can have a BBQ so everyone can get involved, have a potluck, or even hire a caterer.
2) Drinks
Another crucial item to have on yachts.
Depending on your party type, you can hire a bartender to serve specific drinks for your party.
Otherwise, just bring it yourself, or if you hired a crew then ask the crew member if they can prepare the drinks for you and your guests on the yacht.
3) Warm Clothing
If your party is at night then the winds coming from the ocean can get quite cold for some.
You can stock up on blankets and scarves or even some warm clothing for you and your guests.
4) Sunscreen and sunglasses
These are yacht essentials that almost anyone should bring, especially if you have water sports activities planned out.
Bring extra sun protection for everyone and even a first aid kit just in case someone gets hurt during a snorkelling session.
5) Swimming suits or wetsuits
It's important to bring a change of clothing depending on the activities.
Make sure everyone brings the proper clothes especially when they plan to spend time in the water.
Tips on taking advantage of your yacht party experience
If you are new to yachting or even a cruise, it can be difficult to predict the outcome of the event.
Some additional tips to keep in mind are:
Make a plan about what you want and focus on the important details.
Make sure the party caters to the needs and interests of your guests aboard.
Be open to new ideas and if you don't have any, you can contact a charter specialist who can help suggest interesting ideas to make a unique and memorable event for you.
Check up on things to ensure the party runs as smoothly as possible.
Make sure the event is fun so you and your guests don't stay glued to your phones the whole time.
Hire a professional photographer to take a picture. This is especially important if you're planning a formal event like weddings and birthdays.
Remember to enjoy the moment and be in the present as you spend time with your friends and loved ones.
There's just something about a yacht party that elevates any event to a whole new level.
With the help of an expert, you'll share unforgettable memories with your guests.