10 Beautiful Sunset Views in Singapore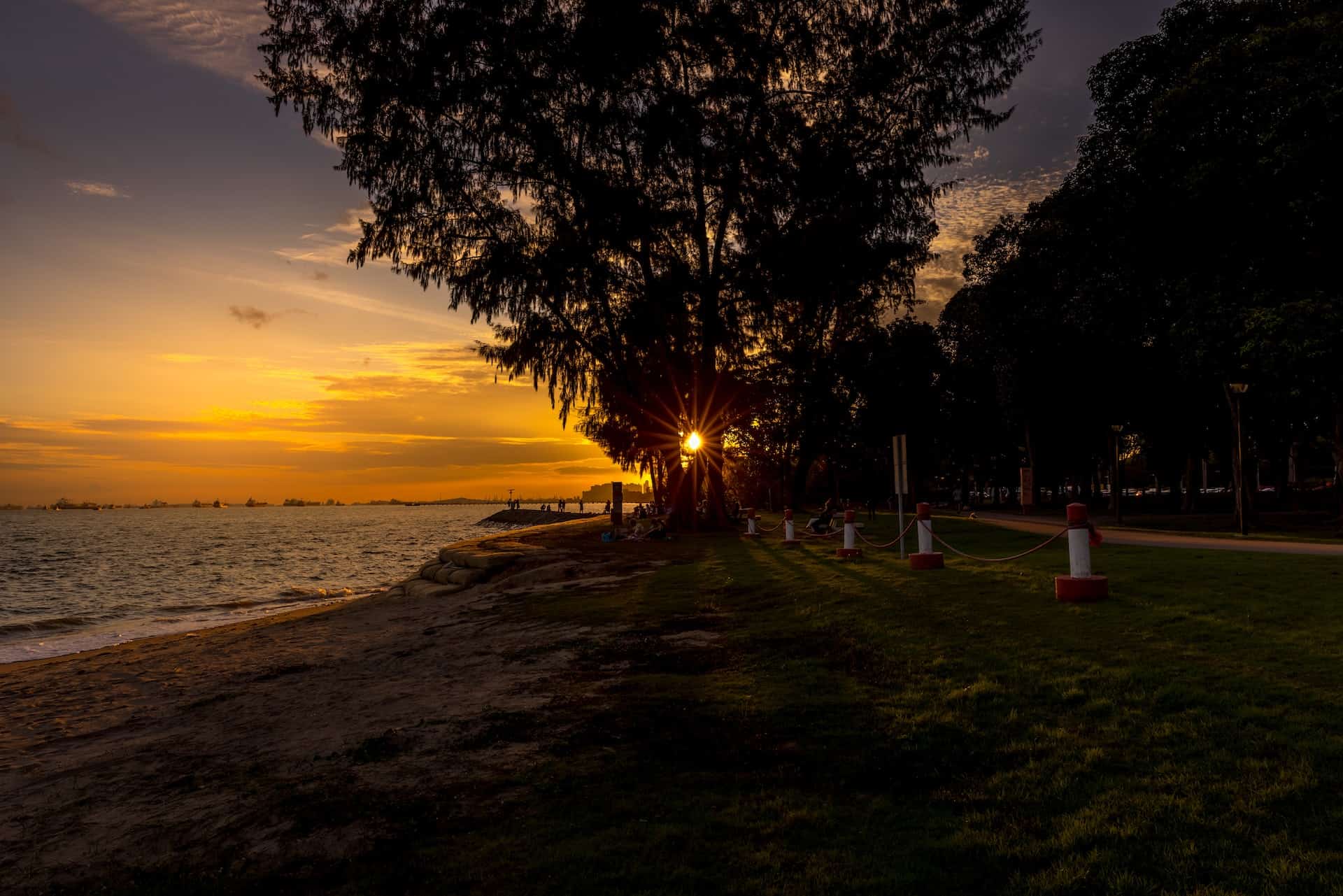 Have you ever been mesmerized by a beautiful sunrise and sunset view? Chances are; if you're living in Singapore, you probably have – after all, this city is known for its gorgeous sunrise and sunset views that take your breath away. And it doesn't matter whether you're looking from your penthouse balcony or from the beach – there's no shortage of amazing places to capture the beauty of a stunning sunset here in this Lion City. If you need some inspiration on where to find these breathtaking views and snap a picture of the golden hour, then look no further! Read on to find out our top 10 picks for beautiful sunset views in Singapore!
#1: Punggol Waterway Park
If you're looking for a peaceful spot to watch the sunset in Singapore, the Punggol Waterway Park is perfect. With beautiful gardens and plenty of open space, it's an ideal spot to relax and take in the view. And if that isn't enough, you can also enjoy strolling along boardwalks while admiring views of nature reserves and ponds. Don't forget to stop by the nearby Jewel Bridge, Sunrise Bridge or Kelong Bridge or too — they are some of the best spots in Singapore for capturing postcard-worthy pictures of sunrises and sunsets!
#2: Marina Bay Sands
One of the most iconic sunsets in Singapore is at Marina Bay Sands. Located at the heart of the city, here you can watch as the day fades away to a stunning orange, yellow and pink sky while admiring the impressive view of the city skyline. At night, Marina Bay Sands is illuminated with bright lights that twinkle like stars – making it even more magical! Additionally, you can explore the nearby Marina Barrage and Gardens by the Bay for more incredible sights. There's nowhere else in Singapore quite like this experience. So enjoy a romantic evening or bring your family along for a nice time out by the waterfront! Don't forget to take lots of pictures so you can re-live this beautiful moment forever!
#3: Woodlands Waterfront Park
For a picturesque sunset scene, head over to Woodlands Waterfront Park. Located by the Straits of Johor, this park features an 1.5km -long promenade perfect for leisurely strolls or jogs. The waterfront also offers stunning views of the sun setting beyond the horizon – in fact, some even say it's one of the best spots in Singapore to catch an incredible sunset or snap a picture when the sun rises! After watching the sun set, take some time to explore all that Woodlands Waterfront Park has to offer, including its unique wildlife such as otters and more!
#4: East Coast Park
Located along the southeastern part of Singapore, East Coast Park is renowned for its stunning beach views and perfect location for watching the sunset. Here you can see a beautiful mix of sea, sand, and sky as the sun sets over the horizon. In addition to admiring the view, there are plenty of other activities you can do here such as biking or rollerblading on its 12.5 kilometer track, indulging in delicious seafood restaurants located along East Coast Lagoon Food village or simply chilling out on one of many beaches. What better way to end your day than enjoying a spectacular sunset view at East Coast Park?
#5: Lower Seletar Reservoir Park
This park features an atmosphere that's both tranquil and picturesque. The Lower Seletar Reservoir Park is located in the northern area of Singapore, and offers one of the most beautiful views of the setting sun. Take a slow stroll along its boardwalk as you watch the sun dip below the horizon and enjoy a peaceful evening. No matter what your plans are, this park makes it easy to find that perfect spot for watching an amazing sunset!
#6: Labrador Nature Reserve
The Labrador Nature Reserve is known for being home to many species of flora and fauna – but it's also one of the best places to watch one of Singapore's most beautiful sunsets. The Labrador Nature Reserve has stunning views of the pink and orange hues that light up the sky as the sun sets over Singapore. You can walk, cycle or scoot near the waterfront and go all the way to Keppel Bay when enjoying the sunset view. Make sure you bring your camera to capture this amazing sight!
#7: Mount Faber Park
Mount Faber Park is one of the best places to watch the sunset in Singapore. With a picturesque skyline and lush greenery, this park offers an unforgettable experience for visitors. As you take a leisurely stroll through its winding pathways, you'll be able to capture some stunning photos of the gorgeous orange sky!
#8: Merlion Park
Merlion Park is one of the most iconic spots in Singapore, and it's also a great spot to enjoy the sunset. Every evening, locals and tourists alike flock to Merlion Park to watch the sun go down and take some beautiful pictures of the view. The light from the setting sun reflecting off of the water at Merlion Park only adds to the beauty of the view.
#9: Sentosa Cove
If you're looking for an unforgettable way to watch the sunset in Singapore, look no further than Sentosa Cove. Here, you can rent a yacht at any of the yacht rental Singapore companies and cruise companies around the bay, soaking up the stunning views as the sun slowly sets. With luxurious features like spacious cabins and top-of-the-line amenities, you'll be able to experience the sunset in style! Just be sure to do your yacht booking early if you're planning on doing so!
#10: Sunset Walk 
The Sunset Walk or Changi Boardwalk is a 2.2 km-long path that follows along the coast of Changi Beach Park. It's a perfect spot to witness an amazing sunset, and it has a unique view of the airport runways, too! While you walk, take in the vibrant sights and sounds, like birds chirping and waves crashing against the shore.
Conclusion
We hope this list has provided you with some great ideas for how to enjoy breathtakingly beautiful sunsets in Singapore! Whether you choose to take a romantic stroll along the beach, or climb up one of the stunning forested hillsides, there are plenty of ways to experience nature's most spectacular show.