Do you pay for Food and Drinks when You Charter a Yacht?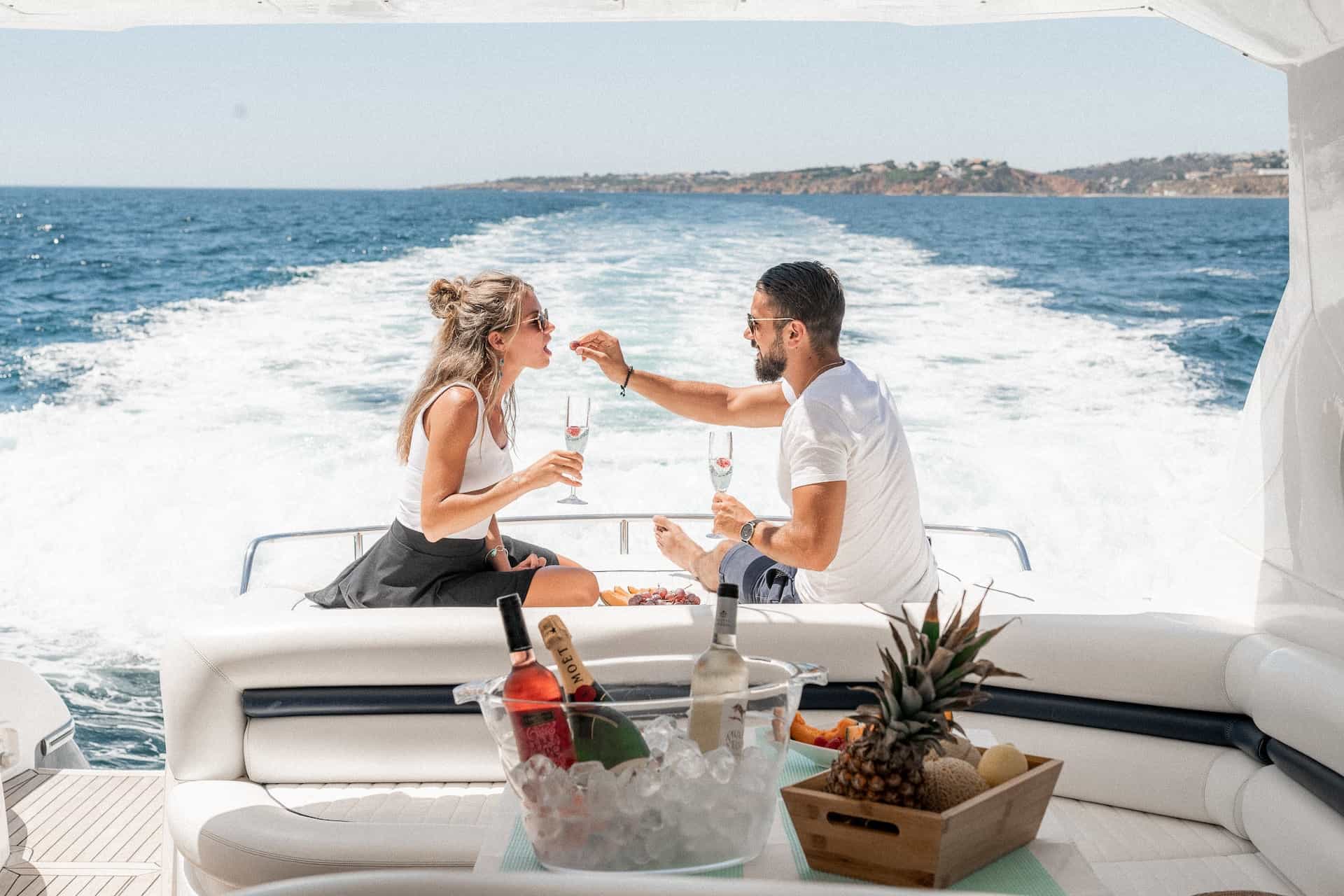 Yacht charters in Singapore offer a variety of packages to meet the diverse needs of their clientele.
Yacht charter prices begin anywhere from SGD500 and up, depending on what services are required for the charter.
If you are looking to plan a charter vacation, consider these additional expenses for your trip:
1) What yacht are you looking for?
Is it a luxury yacht charter, or one of those sailing yachts?
Consider the number of pax coming on your trip.
If it is meant for a long vacation, then you may want to consider a hybrid yacht rather than a motor yacht, so you will be able to enjoy the sail when the winds are strong.
Classic yachts are best for adventurers looking to sail the high seas.
Relying on sails can help you save on fuel costs and extend your journey toward your destination.
2) What activities are you looking to have on the yacht?
Are you looking to have fun playing some water sports?
You can consider renting jet skis and other water toys on your trip.
However, larger boats and expensive yachts usually offer water sports equipment without extra costs as they are already packaged under the charter rate.
Smaller yachts will require additional expenses for any add-ons.
3) Where is your charter destination?
If you are planning to sail to different locations on your yacht charter, make sure you include all the additional costs necessary for your trip.
Other expenses to consider include:
Docking fees
Mooring fees
Curtailment insurance
crew gratuity
There are different rules for each location you are looking to dock at.
For example, the Monaco Grand Prix, virgin islands, and French Riviera are expensive during the high season.
It is best to purchase all-inclusive plus expenses charters that include all the costs to ensure a positive charter experience.
Good yacht cruises will include a detailed accounting of the base price and charter price.
Be sure to read the yacht charter contract carefully before agreeing on the charter costs.
4) How long will you be staying on the yacht?
If you are looking to spend days or even weeks sailing yachts then you have to remember to include the cost of having at least three meals a day for all yacht charter guests that are on board.
There are a few ways you can do this:
1) Hire a charter that includes food and drink
This will remove all the headaches of sorting out food and drinks for you and your guests.
Often offered on luxury charters, an advance provisioning allowance is usually required in charter contracts to cover the costs of purchasing all the necessary food and drinks prior to chartering.
Sometimes, a chef is provided in your charter contract as part of the crew.
You can discuss the terms with a charter expert before you charter a yacht.
2) Plan your own food and drinks for your trip
If you are looking to save money, you can bring your own food and drinks for your trip.
However, it is important to consider the following when bringing food:
a) How to store food on the yacht?
Regardless of personal taste and possible health requirements, it is important to remember that fresh food is tricky to store on board as the fridge is powered by the engine and does not usually have much refrigeration capacity.
Therefore, it is best to take very little fresh food on board and try to consume it as soon as possible and always be careful about its condition.
Meat and fish, in particular, should be eaten on the same day whenever possible.
As far as milk is concerned, it is better to use long-life milk and prefer half-litre packs.
If you are sailing yachts for a longer period, it is best to take a minimal amount of these foods on board and consider buying them from port to port as needed.
b) Consider longer-lasting food items
There is an assortment of fruits and vegetables that can keep better on a yacht charter.
These includes:
lemons
oranges
apples
potatoes
onions
garlic
Other food items to consider include:
Rice and oats
Beans and lentils
Pasta
White and brown sugars
Powdered milk for coffee, tea, or cereal
Cereals (if you have the space!)
Canned goods such as soups, veggies, and sauces
Don't forget to bring oil, salt, and other cooking ingredients to make delicious food on board.
c) Bring enough water for cooking and drinking
It is important to stress the importance of a good water supply: water on board is not drinkable, and you will need to calculate at least 2 litres per person per day.
Bottles of water and assorted drinks are usually stored in the bilge, remembering to remove the label if it is paper.
d) Bring cooking appliances
Depending on what is available on your yacht, you may need to bring suitable electric appliances to cook your food.
Electric appliances to consider include:
rice cooker
kettle
microwave
pressure cooker
You will be able to cook plenty of recipes with these electric appliances.
However, if you are on a modern yacht charter with a fully equipped kitchen, then you will be able to create even more dishes on your trip.
What else to consider when you charter a yacht?
You should not neglect all those products that relate to the management of the sailing boat.
These products include:
biodegradable detergents (for laundry and dishes)
kitchen and toilet paper
sponges and tea towels
rubbish bags
plastic plates, glasses, and cutlery
Chartering a yacht can be one of the best decisions you can make for a vacation.
Mediterranean charters have different terms compared to Caribbean terms and greek terms, therefore it is best to identify which one is more suited to you, your plans, and your budget.
An important tip to consider for your charter costs is to charter yachts during the low season.
The cost to charter a yacht will usually be cheaper compared to chartering one during the high season.
If you are an expert in negotiations, you may be able to get an all-inclusive yacht charter on your next vacation.